Buoyancy Aids & lifejackets
BA's, PFD's & Lifejackets For All Types Of canoeing and kayaking whether for kids or adults
Simple to use pull on or front entry. Suitable for all types of recreational Sit On Top, Sit in Kayaks and Open Canoes.Ideal for those on a budget.
The Touring, Fishing & Sea Kayaking BA's have more features & adjustments such as pockets and reflective strips.
These B.A's offer maximum flotation and freedom of movement. Many with features such as harnesses, pockets and attachment points for safety kit.
For all your little monsters. A range of Life Jackets and Buoyancy Aids in sizes to fit Baby, Junior through to small adult.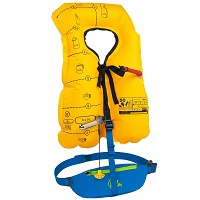 Specific buoyancy aids for use on SUP's or Stand Up Paddle boards. These are very small, lightand comfortable. they inflate when required rather than be a bulky foam-filled PFD.
Buoyancy aids for your four legged friend.