General Purpose Crossover Kayaks
General Purpose & Crossover Kayaks
These are a selection of our most popular General Purpose and Crossover Kayaks available at Norfolk Canoes.
Crossover, or General purpose kayaks are fully capable of everything from gently touring your local waterway, surfing on the sea and dealing with some good white water as well.
Premium Specification
The Remix crossover kayaks designed to be at home on whitewater or the flat.
Badass outfitting to rival Wavesport core whiteout and Dagger river.
Spring loaded drop down skeg and rear sealed bulkhead.
Available in 2 sizes 9 and 10 to ensure the perfect fit.
The Katana designed to be at home touring and also tearing up whitewater.
Drop down skeg
Large easy access cockpit
Large stern storage hatch
Adjustable padded thigh braces
Contour ergo seat pad
Double ratchet backband adjustment
Saftey step out wall
Ratchet leg lift
Mini-Cell Foam sealed rear bulkhead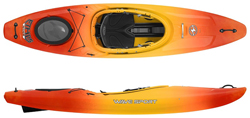 The Ethos is a superb crossover kayak offering a stable and forgiving platform.
CORE WhiteOut System
Rotomolded Play Seat with Adjustable Leglifter
Adjustable Padded Trekking Thigh Braces
Forward Ratchting Backband
Hinged Comfort Carry Hip Pads
Tru Track Skeg System
Auto-Adjusting Bulkhead Footbrace with Foam Padding
Standard Specification
The GT range of boats provides a great all round river running kayak.
Full plate bulkhead foot brace
Fixed ergonomic seat with padding and gear loops
Adjustable thigh braces
Adjustable freestyle backrest
2 anodised aluminium grab handles
Minicell foam pillar buoyancy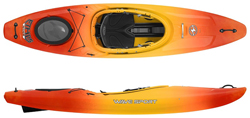 Wavesport Ethos crossover kayak is designed to be a boat that will allow you to go anywhere and do anything.
Adjustable Bulkhead Footbrace
Soft-grip Carry Handles
Rear Deck Elastic
Skeg System
Oval Rear Storage Hatch with Bulkhead
Rescue/Security Bar
The Katana crossover kayak has been designed for both flat and whitewater paddlers.The Katana really is the best of both worlds.
Drop down skeg
Large easy access cockpit
Large stern storage hatch
Adjustable padded thigh braces
Adjustable backrest
Deck bungee
Drain bung from cockpit
Full plate bulkhead footbrace
Mini-Cell Foam sealed rear bulkhead
Basic Specification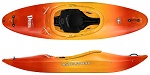 The D65 and D75 is a classic boat in the Wavesport range available in 2 sizes.
Adjustable thigh braces
Adjustable padded thigh braces
Rotomolded bulkhead system
Thermoformed seat and hip pads
Thigh ratchet backband
Four deep pocket grab handles.