Gumotex Palava
Best selling, tough and versatile inflatable tandem canoe
The Gumotex Palava is a best selling, well respected and extremely popular model of tandem inflatable canoe. With great performance and capable of taking on white water expeditions the Palava is extremely versatile, stable and great fun.
Gumotex Palava
£656.10 (RRP £729.00 - Saving £72.90)
More info
Features / Spec
Video
Colours
Popular Accessories
Delivery
Gumotex Palava 400
The Gumotex Palava 400 is regularly recommended by experienced paddlers of open canoes and inflatables as a really good, versatile and tough inflatable canoe for use in a wide range of conditions. Even those who paddle rigid open canoes and normally look down on inflatable canoes have a great respect for this inflatable, and rightly so. The Gumotex Palava is a spacious, comfortable, hard wearing inflatable canoe and really does perform to an amazing level. It is fully capable of fast and stable cruising around calm local waterways enjoying a peaceful day out, but at the same time it is also great fun for throwing down some light white water as well.
Coming with 2 bench seats as astandard, the Gumotex Palava is ideally suited for solo or tandem use. There is also a third, middle seat mounting position which will allow for an extra passenger with the fitting of an optional additional seat. Alternatively this is a great place to mount a single seat and paddle the Palava solo. This gives paddlers far more control through a variety of conditions and this versatility is what often makes the Gumotex Palava so popular on inflatable canoe. There are also integrated thigh straps for added control through the rough stuff and keep you connected with your boat.
The Palava is made from Gumotex's very own full Nitrilon material and with their meticulous quality control, manufacturing and testing before the canoe is packaged up, you're sure to be purchasing a top quality inflatable that will be with you for many years to come.
The Gumotex Palava 400 inflatable canoe is available in red or green.
Features
Made from Nitrilon material
Plywood and PE foam seat construction
Mounting point for luggage or third seat
Thigh straps
Bungees for storage
Carry handles bow and stern
Tracking fin
Repair kit included
Large 80ltr Backpack style transport drybag included
Dimensions (inflated)
1, 2 or 3 Person
Length: 455cm
Width: 80 cm
Weight: 17.5kgs

Manufacturers Weight Capacity: 250kg

Optimum weight capacity may differ - please contact us if you are unsure about the suitability of the Gumotex Palava 400 for your weight
No. of chambers: 3
Box Dimensions: 76 x 50 x 34
Video
Provided By Gumotex
Popular Accessories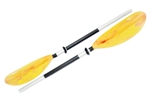 Distance 2 piece kayak Paddle
Powerful asymmetric bladed paddle for greater efficiency while paddling your inflatable Palava canoe. 230cm length.
Price £39.95 (RRP £44.95 - Saving £5.00)

Carlisle Canoe Paddle
These tough alloy shaft and polypropylene blade canoe paddles are perfect on almost any waters. Powerful and very hard-wearing they won't let you down. 57" Standard length - other lengths are available

Fast Inflating Stirrup pump
This dual action pump not only inflates but has a deflate setting as well. It inflates on both the dowward and upward stroke and is a quick way to inflate your kayak. Other pumps are available

High Pressure 12V Electric Pump
Fast and easy way to inflate your Gumotex Palava, just plug it into your cars' 12V power socket (AKA Lighter Socket) and let it go.
Price £64.99 (RRP £80.00 - Saving £15.01)

Third Seat
Easy to fit third seat for the Gumotex Palava. - Seat bolts sold seperately - see below.

Seat Bolt and nut
Sold singly - 4 of these are need to fit the third seat above.

Buoyancy Aids
We strongly recommend that you always wear a buoyancy aid when paddling your inflatable kayak or canoe.
Standard Delivery
The Gumotex Palava 400 is available for delivery thoughout England, Wales, Scotland, Northern Ireland & Ireland.
Canoes and kayaks are normally supplied within 3-5 working days. Clothing and equipment are normally delivered within 1-3 days.
Collection - Click & Collect
The Gumotex Palava 400 is available for instore collection from Norfolk Canoes or from any branch within the Canoe Shops Group.
Our other stores are:
Bournemouth Canoes - Poole
Brighton Canoes - Newhaven
Cornwall Canoes - St Columb Road Nr Newquay
Kayaks & Paddles - Plymouth
Manchester Canoes - Warrington
Southampton Canoes - Totton
We will contact you to arrange collection upon receipt of you order.
Give us a call on 01603 747139 if you have any questions about the Gumotex Palava 400