Delivery Information
A fast and efficient service
At Norfolk Canoes we understand that waiting for you new toys is always frustrating, so we will always do our best to get your order to you as fast as possible. Wherever possible we will endeavour to have your order delivered within 1-5 days. Smaller items are sent using a 24 - 48 hour service, while larger packages, kayaks and canoes are sent out on a 3 day service. While we will make every provision to keep to these timescales, on occasion there may be a delay due to unforseen circumstances.
If you require goods to be delivered on a specific date (especially handy with gifts), then give us a call or email and we will do our best to oblige.

We only use reputable couriers and while we will take every precaution to ensure your goods get to you in tip top condition please check your order (unwrapping if necessary) before you sign for them. All items are suitable packaged for protection but If you find any damage then please refuse to accept and sign 'received damaged'. Please then either call us or drop us an email with the details.

While we will do our best to ensure a safe, speedy delivery we cannot be held responsible for the performance of couriers.

Please note that all orders are subject to availability and should there be any delay in you receiving your order we will contact you directly.
If you need to speak to at all us regarding a delivery, please feel free to contact us directly via our Contact Us Page
Local Deliveries
If you are looking to have a canoe or kayak delivered locally around Norfolk, Suffolk and Cambridgeshire and Lincolnshire, then please email us, give us a call or drop in to the shop. With our own transit van at our disposal we are usually able to arrange a specific day and time to have your order delivered conveniently to your door.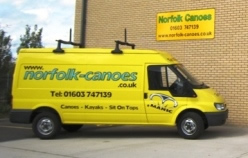 Click and collect
Alternatively, we have a number of stores located around the country where you can conveniently collect you order at no additional cost*.
Kayaks & Paddles - Plymouth, PL21 9RL

Bournemouth Canoes - Poole, BH16 5BW

Brighton Canoes - Newhaven, BN9 0DH

Cornwall Canoes - St Colub Road, TR9 6PZ

Manchester Canoes - Warrington, WA1 4RX

Norfolk Canoes - Norwich, NR5 0JU

Southampton Canoes - Totton, SO40 3SA
At Norfolk Canoes we do our best to keep a large and varied stock of canoes, kayaks, clothing and equipment. Between our own stocks and those located at our main warehouse we can normally supply orders quickly and efficiently. However, if you are planning to visit our store and travelling any great distance, we do recommend that you contact us in advance to check the items you are after are available. In that instance we will be happy to put them aside and hold them in readiness for your collection. If you have ordered an item that is currently out of stock, we will contact you directly prior to processing your order.