FeelFree Moken 12.5 V2 Angler
A Superb, Stable Platform For Kayak Fishing
The Feelfree Moken 12.5 V2 is an ideal platform for kayak fishing. Especially suited to freshwaters, the Moken 12.5 provides a superb blend of stability, tracking and manoeuvrability. It comes fully loaded with all the fishing features you could need as well as super comfortable seat and a handy wheel-in-the-keel.
Price:
£849.00 (RRP £899.00 - Saving £50.00)
More info
Features / Spec
Recommended Kit
Colours
Delivery
Feelfree Moken 12.5 V2
If you are looking for a stable platform from which to fish and still have room for all the gear you could want to carry, then look no further than the Feelfree Moken 12.5 V2 Angler.
From a fisherman's perspective, the Feelfree Moken 12.5 V2 is great as an all-round fishing kayak that is easy to paddle and extremely comfortable. You feel high in the water and perfectly safe. The included solid framed adjustable seating system is a great place to be for extended fishing trips and the standing platform area in front of the seat makes flicking a spinner or lure under that overhanging tree a simple task.
Storage on the Feelfree Moken 12.5 V2 Angler is never a problem with a locking oval front hatch and smaller round twist lock hatch allowing access to the inside of the hull. Feelfree have put a Sonar Pod in front of the paddles seating position on the 12.5 V2, this pod allows you to mount your fishfinder, battery and transducer all in one handy removable pod. A large rear storage tank with adjustable bungee's over the top allows for kayak anglers to store a crate.
A pair of rear facing flush mounted rod holders come as standard and are ideally placed for trolling, while adding additional rear and forward rod holders or other equipment is easy using the Feelfree Uni-Track rails mounted on the gunwales forward and aft of the seating position. Feelfree's Uni-Track Mounting Plates (see Recommended Accessories) allow you to simply clip additional rod holders, fishfinders and other accessories onto the tracks and adjust them to within easy reach of the seating position without having to permanently mount them onto the boat. A paddle park either side of the seating position makes stowing your paddle quick and easy when you need both hands free.
The Feelfree Moken 12.5 V2 Angler is also rudder-ready and a kit is available that you can easily fit to the kayak should you require (not Included).
A 'Wheel In The Keel' is a standard feature on the Moken 12.5 V2, it makes getting this sit on fishing kayak to and from the water a breeze. The wheel in the keel is designed for use on hard surfaces only. The wheel in the keel isn't designed for use on rough ground or sand but is perfect for slipways, concrete and tarmac. In order to prolong the life of the wheel's axle you should to occasionally wash off dirt and salt water.
Features
Adjustable Seating System
Front Oval Hinge Hatch
Rear Quarter Turn Hatch
Side Carry Handles
Rear Storage Well With Bungee
2 Flush Mounted Rear Rod Holders
Drain Bung
Uni Track Rails
Wheel In The Keel
Sonar Pod
Paddle Park
Rod Tip Locators
Rudder Ready*
*Rudder Kit Not Included (See Recommended Kit Tab)
Dimensions
Length: 3.83m
Width: 81cm
Weight: 41kg

Manufacturers Weight Capacity: 190kg

Optimum weight capacity may differ - please contact us if you are unsure about the suitability of the Feelfree Moken 12.5 V2 for your weight
Recommended Accessories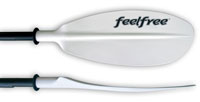 Feelfree Day Tourer Alloy Shaft 220cm Paddle
Tough, asymmetrical polypropylene blades on a one piece alloy shaft. A good all-round Recreational & Touring paddle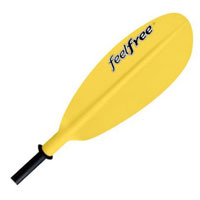 Feelfree Day Tourer Glass Shaft 220cm Paddle
Tough, asymmetrical polypropylene blades on a one piece glass fibre shaft. A good all-round Recreational & Touring paddle.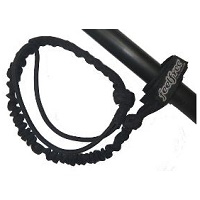 Feelfree Paddle Leash
A really simple and cheap way of preventing the most common way of getting into trouble whilst paddling - losing your paddle.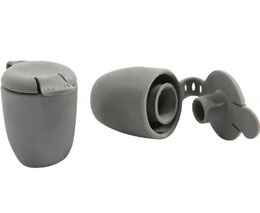 Feelfree Scupper Bungs
These handy little accessories can stop water coming up through the scupper holes and help keep you drier. Sold as a pair.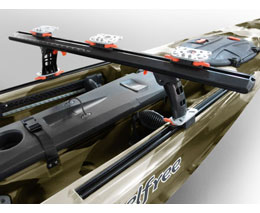 Feelfree Uni Bar - Deluxe
The easy way to keep your fishing lures safe and close to hand. The Uni Bar comes mounted on Uni Track plates allowing you to position the bar in the ideal position when paddling and fishing.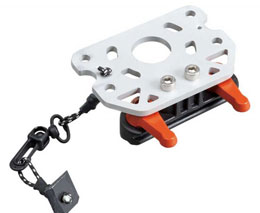 Feelfree Uni Track Mounting Plate
Adjustable & removable bracket for mounting additional Scotty, Ram and Feelfree Rod Holders & equipment onto the Uni Track Rails of Your Moken 12.5 V2.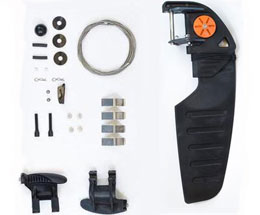 Feelfree Rudder Kit
This simple kit allows you to fit a foot controlled rudder onto your Moken 12.5 V2 sit on top fishing kayak.
Standard Delivery
The Feelfree Moken 12.5 V2 is available for delivery thoughout England, Wales, Scotland, Northern Ireland & Ireland.
Collection - Click & Collect
The Feelfree Moken 12.5 V2 is available for instore collection from Norfolk Canoes or from any branch within the Canoe Shops Group.
Our other stores are:
Bournemouth Canoes - Poole
Brighton Canoes - Newhaven
Cornwall Canoes - St Columb Road Nr Newquay
Kayaks & Paddles - Plymouth
Manchester Canoes - Warrington
Southampton Canoes - Totton
We will contact you to arrange collection upon receipt of you order.
Give us a call on 01603 747139 if you have any questions about the Feelfree Moken 12.5 V2