Thule DockGlide 896
Car roofrack mounted kayak carrier
With smooth rear mounts that make sliding your kayak up onto your car roofrack, the Thule DockGlide 896 is a great peice of kit that makes getting your kayak to and from the water that bit easier.
More info
Features
Specification
Popular Accessories
Delivery
Thule DockGlide 896
The Thule DockGlide 896 is a great piece of equipment to make getting your kayak on and off your car roofrack. The DockGlide features 4 seperate feet that cradle your kayak once in place but with the unique feature that the rear feet are have a smooth coating. This means that when loading a larger kayak from the rear of the car, it is very easy to just push and slide your kayak up and into the front feet.
All the feet pivot on hinges and are adjustable to the specific width of your kayak making a great fit every time.
Strapping down the kayak is the final step in securing your boat ready to go paddling!
Adaptors are required in order to fit some Thule roof bars (Sold separately):
Fits Thule Wingbar and bars with T-Track groove.
Compatible with Thule Square bars using Adapter 8897 - See Popular Accessories tab.
Features
Easy loading and unloading of kayaks using the pivoting felt-lined rear saddles which glide and centre your kayak onto the vehicle.
Two independent pivoting saddles with angle-setting lever gives a great fit to almost any shap kayak.
Large, flexible, cushioned pads protects the hull of your kayak.
Easily secure the kayak using the centre load straps with car-protective buckle bumpers.
Includes T-track attachment for Wing Bars and bars with T-Track grooves.
Carries kayaks up to 90 cm wide and weighing up to 35 kg.
Specification
Maximum load: 35 kg

Dimensions: 12 x 19 x 13 cm

Weight: 3.1 kg

Rubber cover for strap buckle: Yes

Includes a pair of straps: 2 x 400 cm

Lockable: No

One Key System compatible: No

Compatible with Thule SquareBar: Using 8897 adapter

Fits ProBar

Fits WingBar

Fits SlideBar
Popular Accessories

Thule QuickDraw 838
A pair of ratchet pulleys that's a great accessory for securing the ends of longer touring and sea kayaks to your vehicle.
Price £38.25 (RRP £42.50 - Saving £4.25)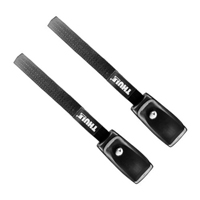 Pair of 4m Lockable Cam Straps
These straps feature a steel cable inside them and barrel locks on the buckles to deter theft of your kayak during transport.
Price £60.75 (RRP £67.50 - Saving £6.75)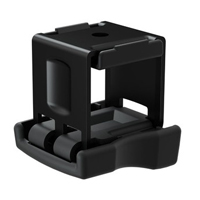 Thule 8897 Adapter for Square Bars
Simpe adapter that makes the DockGrip compatible with Thule Square bars.
Price £13.50 (RRP £15.00 - Saving £1.50)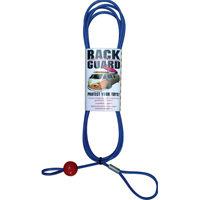 Rack Guard
A simple device that's a great visual deterrent for when transporting your kayaks on a car roofrack.
Standard Delivery
The Thule DockGlide 896 is available for delivery thoughout England, Wales, Scotland, Northern Ireland & Ireland.
Collection - Click & Collect
The Thule DockGlide 896 is available for instore collection from Norfolk Canoes or from any branch within the Canoe Shops Group.
Our other stores are:
Bournemouth Canoes - Poole
Brighton Canoes - Newhaven
Cornwall Canoes - St Columb Road Nr Newquay
Kayaks & Paddles - Plymouth
Manchester Canoes - Warrington
Southampton Canoes - Totton
We will contact you to arrange collection upon receipt of you order.
Give us a call on 01603 747139 if you have any questions about the Thule DockGlide 896