Wavesport Kayaks
Norfolk Canoes Are a Specialist Supplier Of Wavesport Kayaks

Wavesport Sit on Top Kayaks
The Wavesport Scooter is a grat single person sit on top kayak that's ideal for both calm rivers and surfing at the beach. Available in the brilliant Black Out spec it includes and very comfy and stylish seat.
Popular tandem version of the Scooter, this particular sit on top kayak is great fun for families who need a versatile sit on top that can be used on fresh water or at the beach.
Wavesport Crossover Kayaks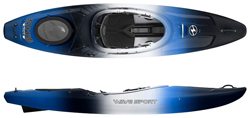 The Ethos is superb crossover kayak, designed to be a boat that will allow you to go anywhere and do anything. The Ethos offers a stable and forgiving platform that is grate for up to grade III white water with enough storage for all your overnight kit
White Water Kayaks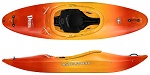 The D65 and D75 is a classic boat in the Wavesport range. This kayak has built itself a reputation as a quick, nimble, responsive and predictable kayak. The D65 and D75 is now moulded in the uk and its outfitting and price make it one of the best kayaks to introduce yourself to white water.
The Diesel is the 4x4 of the kayaking world. One of the most versatile, all-river, all-conditions whitewater kayaks around. A high volume river runner and creeker with loads of performance for a sporty feel and available in either Black out or full Core WhiteOut Spec.
Wavesport's Recon will see you down the river safely while performing at the highest levels of creeking, river trekking and class IV-V+ boating. The Wavesport Recon will enhance your confidence and skill sets allowing you to safely push your boundaries.
The Wavesport Fuse is a river running playboat, that is ideal for a range of paddlers from beginners to expert. Great if you're looking to one boat to take on a variety of tasks.
Playboats
Wavesport Project X
Wavesport's famous playboat, back and looking good. Available in 3 sizes.
Call us for more details and availability.
Touring Kayaks
An extremely comfortable and versatile touring kayak with 2 cockpits. Also available with rudder.