Gumotex Thaya
Tandem inflatable kayak with a drop-stitch floor
The Gumotex Thaya inflatable kayak is made with hand made precision, and offers fully customisable seat and foot plate positioning. The drop-stitch technology allows for a high pressure floor making the Thaya one of the top performing inflatables.
More info
Features / Spec
Colours
Video
Recommended Kit
Delivery
Gumotex Thaya
The Gumotex Thaya is the latest design to come from this superb manufacturer of inflatable canoes and kayaks. Made from the hard-wearing Nitrilon material, the Gumotex Thaya features a Drop Stitch floor. This is a technique that is well known in inflatable SUP's and involves the top and bottom layers of the floor chamber being 'stitched' together by row upon row of strong threads. This means that an inflatable kayak made with drop stitch can be inflated to a much higher pressure than other models. The higher pressure and added strength provided by the drop stitching makes these kayaks stiffer, faster, more stable and more responsive with less effort from the paddlers.
The Gumotex Thaya comes with 2 seats as standard, but it is also capable of being paddled solo with a simple re-arranging of the seating. There is also space for a small child to go between 2 adults as well, if required. This makes the Thaya a very versatile inflatable kayak.
Inflating the Gumotex Thaya is quick and easy cutting down the time required to get onto the water. Deflating is even faster and the flexibility of the Nitrilon means that the Thaya can be packed away quickly into the neat backpack-style storage bag included. A Gumotex Pressure gauge is a handy addition to the Thaya to ensure you get the right pressure every time.
Features
Made from Nitrilon material
Drop-stitch floor and seats
Versatile footrests
Comfortable inflatable seat with backrest
Carry handles bow and stern
Tracking fin included
Repair kit included
Transport drybag included
Customisable seat and footrest positioning
Third seat compatible - Optional extra
Removable front deck to reduce spashing from waves - Optional Extra
Dimensions (inflated)
Length: 410cm
Width: 89cm
Weight: 17.5kg
Max Operational Pressure - Sidewall: 0.2 Bar / 3 Psi
Max Operational Pressure - Floor: 0.5 Bar / 7.2 Psi

Manufacturers Weight Capacity: 230kg

Optimum weight capacity may differ - please contact us if you are unsure about the suitability of the Gumotex Thaya for your weight

Packed Bag Dimensions: 63 x 40 x 26cm
Recommended Accessories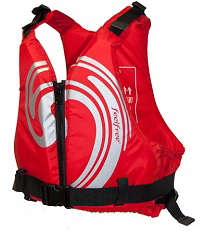 Feelfree Buoyancy Aid
An ideal buoyancy aid / pfd for paddlers who are taking their first steps into kayaking and canoeing.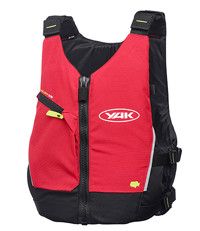 Yak Kallista Buoyancy Aid
Comfortable and adjustable PFD that is ideal for canoeing, kayaking, inflatables and sit on tops.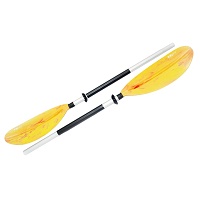 2 Piece Riot Distance 230cm Paddle
2 Piece 230cm kayak paddle with asymmetric blades. A good all-round budget Recreational & Touring paddle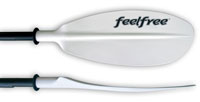 2 Piece Feelfree Day Tourer Alloy Shaft 220cm Paddle
Tough, asymmetrical polypropylene blades on a two piece alloy shaft. A good all-round Recreational & Touring paddle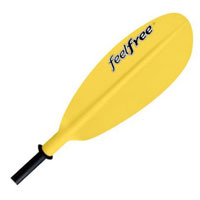 2 Piece Feelfree Day Tourer Glass Shaft 220cm Paddle
Tough, asymmetrical polypropylene blades on a two piece glass fibre shaft. A good all-round Recreational & Touring paddle.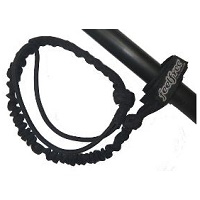 Feelfree Paddle Leash
A really simple and cheap way of preventing the most common way of getting into trouble whilst paddling - losing your paddle.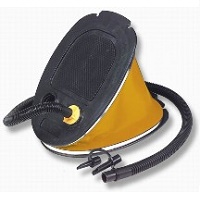 Foot pump
A simple but effective foot pump for inflating your canoe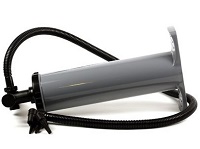 Stirrup Hand Pump
Double action hand pump that also has a deflate function.
Please Note: Pump Colour May Vary.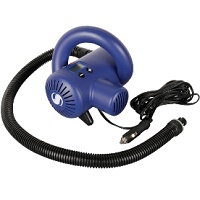 High Pressure Electric Pump
A handy pump that connects to your car 12V socket for maximum ease of inflating your canoe.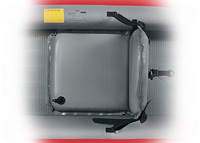 Drop Stitch Seat
Additional Drop Stitch seat turns the Thaya into a family 2 adult and 1 child kayak.
Delivery of Clothing, Equipment, Accessories, Paddles & Inflatable Boats/Boards:
We offer a delivery service throughout the UK & Northern Ireland. Most deliveries arrive within 1-3 working days, although some deliveries may take longer.
Delivery of Kayaks & Canoes:
We offer a delivery service on most kayaks & canoes covering most of the UK & Northern Ireland - Some products and areas are excluded. We provide a bespoke delivery service for canoes and kayaks to improve the level of service and minimise the risk of damage.
Most Kayak & Canoe deliveries arrive within 1-2 weeks (not guaranteed) from confirming your order. The majority of Canoe & Kayak deliveries will be quicker than this but some may take longer.
For further information, please read our Delivery Information page.
×
COVID-19 Update - Click & Collect Temporarily Suspended
For the continued safety of our customers and colleagues our Click & Collect Service is temporarily suspended. Orders can still be placed through our website for "Contactless Collection", however collection of orders will not be possible until normal contactless collection services resume.
Give us a call on 01603 747139 if you have any questions about the Gumotex Thaya