Thule DockGrip 895
kayak carrier for car roof racks
A set of 4 cushioned rubber foot for transporting kayaks on car roof racks. Compatible with and Thule T-Track bars and Thule Square Bars using an adapter.
£119.00 (RRP £140.00 - Saving £21.00)
More info
Features
Specification
Popular Accessories
Delivery
Thule DockGrip 895
The Thule DockGrip 895 is a great way of transporting your kayaks on a car roofrack safely and securely. The 4 cushioned rubber feet can be adjusted to fit a wide range of hull shapes and widths for snug carrying whilst also protecting the hull at the same time.
The Thule DockGrip 895 is also compatible with Thule Square Bars using the adapter 8897.
Features
Set of 4 cushioned rubber feet.
Max load 40kgs and width of 90cms.
The adjustable rubber pads keep the kayak stable and secure during transport.
Pair of 4m straps included that keep the kayak firmly secured.
Compatible with Thule Wing, Pro and Slide Bars with T-Tracks.
Will fit Thule Square Bars using adapter 8897 - see popular accessories tab.
Specification
Load capacity Water Crafts:1 kayak - 40kgs - 90cms width

Rubber cover for strap buckle Length of strap (cm): 2 x 4m

Fits WingBar

Fits SlideBar

Fits Pro Bar

Fits SquareBar - using 8897 adapter

Not One Key System compatible

Also suitable for other crafts, like SUP's and small boats.
Popular Accessories

Thule QuickDraw 838
A pair of ratchet pulleys that's a great accessory for securing the ends of longer touring and sea kayaks to your vehicle.
Price £36.13 (RRP £42.50 - Saving £6.37)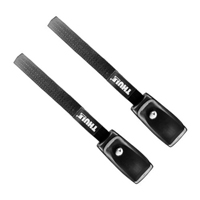 Pair of 4m Lockable Cam Straps
These straps feature a steel cable inside them and barrel locks on the buckles to deter theft of your kayak during transport.
Price £57.38 (RRP £67.50 - Saving £10.12)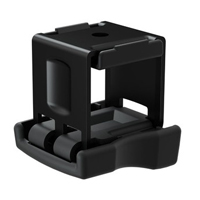 Thule 8897 Adapter for Square Bars
Simpe adapter that makes the DockGrip compatible with Thule Square bars.
Price £12.75 (RRP £15.00 - Saving £2.25)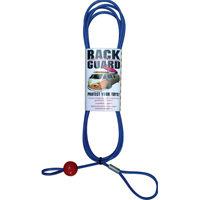 Rack Guard
A simple device that's a great visual deterrent for when transporting your kayaks on a car roofrack.
Price £16.99 (RRP £19.99 - Saving £3.00)
Standard Delivery
The Thule DockGrip 895 is available for delivery thoughout England, Wales, Scotland, Northern Ireland & Ireland.
Canoes and kayaks are normally supplied within 3-5 working days. Clothing and equipment are normally delivered within 1-3 days.
Collection - Click & Collect
The Thule DockGrip 895 is available for instore collection from Norfolk Canoes or from any branch within the Canoe Shops Group.
Our other stores are:
Bournemouth Canoes - Poole
Brighton Canoes - Newhaven
Cornwall Canoes - St Columb Road Nr Newquay
Kayaks & Paddles - Plymouth
Manchester Canoes - Warrington
Southampton Canoes - Totton
We will contact you to arrange collection upon receipt of you order.
Give us a call on 01603 747139 if you have any questions about the Thule DockGrip 895