Inflatable Canoe and Kayak Equipment
Everything from Pumps to pressure gauges and repair kits
Hand and Foot Pumps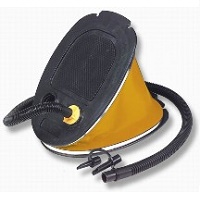 Foot Pump
The Bravo 5 Litre Foot Pump is ideal for use with inflatable kayaks, canoes & dinghies as well as other inflatable products.
Inflate or deflate functions

Inflates 5 Litres in volume per pump up to a maximum pressure of 4.3 psi
Multiple nozzles included
Colour may vary from image shown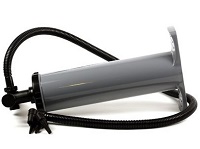 Hand Pump
Double action hand pump for fast and efficient inflation and deflation of your inflatable canoe or kayak.
Double or single action inflate / deflate
Rated pressure: 1 bar
Working volume: 2 x 2000 cm3
Please Note: Pump Colour May Vary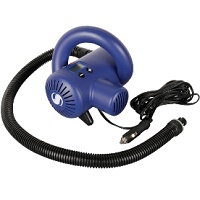 Sevylor High Pressure Electric Pump
Versatile pump that connects to any 12V power outlet in your vehicle. Inflates up to 15 psi and pressure setting can be manually adjusted..
PSI, Bar and Kpa increment settings
Compressor-type 12V pump
Fits standard in-car 12V power sockets
Can be set to automatic to switch off once desired pressure acheived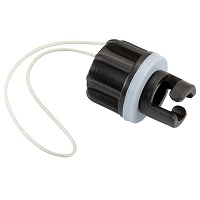 Gumotex Push-Push Modified Valve Adaptor
Space Push push valve adapter that allows you to inflate your canoe with most common push-in style pump nozzles.
For use with Gumotex Inflatable Push Push valves.
Simple to use pump adapter.
Commonly lost item, always handy to have a spare.
Manometers and Pressure Gauges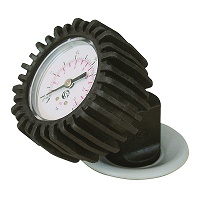 Gumotex Pressure Gauge
Top-quality pressure gauge for use with Gumotex inflatable canoes and kayaks.
Compatible with Gumotex 'Push-Push' valves.
Simply push onto the valve to test pressure.
Manufactured especially for Gumotex inflatable canoes.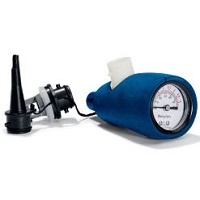 Seylor Easy Inflation Manometer
Superior Manometer from Sevylor. Fits in-line between your pump and inflatable canoe or kayak for a constant pressure reading.
In-line manometer for use with hand pumps.
Works up to 10 psi maximum pressure.
Easy way to monitor pressure as you go.
Transporting your inflatable kayak
Gumotex Transport Bags
Hard-wearing, spacious and featuring a superb backpack-style design with padded shoulder straps, these Transport Bags are a great way of getting your boat to and from the water - even if it's not a Gumotex!
Comfortable, padded backpack-style bags
Wide opening for ease of packing and unpacking
Available in a range of sizes: (Height x Width x Depth)
Handy front pocket for kit storage
80ltr = 104 x 43 x 25 cm - Palava and small kayaks
100ltr = 104 x 47 x 28 cm - Framura, Seawave, Halibut
135ltr = 104 x 52 x 32 cm - Scout, Ruby and larger canoes
Inflatable Canoe and Kayak Repair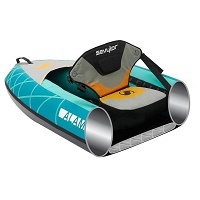 From seats to nuts and bolts, replacement bladders, valves and everything else, we can help you keep your Sevylor and Gumotex inflatable canoe or kayak going.
Replacement Sevylor bladders
Gumotex and Sevylor spare parts
Tracking fins
Replacement valves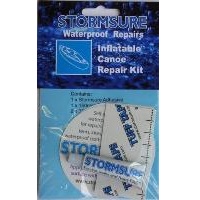 Stormsure Waterproof Repair Kit
Repairs punctures in seconds with simple polyurethane patches. Ideal emergency item for your inflatable canoe or kayak should the worst happen.
A great piece of 'just in case' equipment
Easy to store in a buoyancy aid / jacket pocket or dry bag
Surface needs to be dry when applying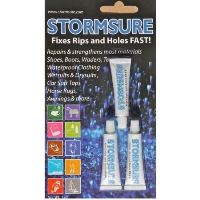 Stormsure Glue
Perfect glue for fixing small holes and punctures in your inflatable canoe or kayak. Small tubes mean less waste. A perfect item to have just in case.
3 x 5g Tubes Per Pack
Versatile glue that fixes a variety of materials and fabrics
Ieal for use with inflatable canoes and kayaks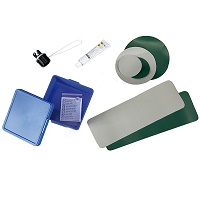 Gumotex Nitrilon Repair Kits
Repair kit for use with Gumotex inflatable canoe and kayaks when making small repairs. Available in a variety of colours to match your boat.
1 x Push-Push Valve Adapter
15g Eastick Glue
2 x 6cm circular patches
2 x 10cm circular patches
2 x 24cm/8cm rectrangular patches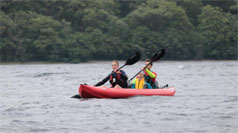 General purpose paddles that are ideal for use with inflatables. Also includes some split paddles.
Space-saving paddles that break down for easy transport
Great value budget canoe and kayak paddles
Single and double blade paddles available
Combi paddles that can be single or double blade style