Information
Buying Information - Links - Useful Information
All of our latest special offers including: Kayaks, Canoes, Kit and Paddles
All of our latest clearnace offers including: Ex Demo and Used Kayaks, Canoes, Kit and Paddles

All the information you might need to know when ordering over the phone or online.
T&Cs
Norfolk Canoes and Canoe Shops Group Term and Conditions.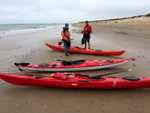 New to the area or coming to Norfolk on holiday, Norfolk and the Norfolk Broads offer some Great paddling - take a look.
If you are new to paddling it can be a mine field trying to get started. Why not take a look at our buyers guides for canoeing and kayaking or give us a call.
Take a look at why Norfolk Canoes is the place for paddlers to shop or just pop in for a chat. You can also see what paddling the staff do.

Looking for you local Canoe Shops Group Store?
Looking for a local canoe/ kayaking club or Outdoor Centre?