Perception Prodigy II 14.5
A tandem sit in Touring Kayak For All The Family
The Perception Prodigy II 14.5 is an ideal family platform for fishing, bird watching or just enjoying the scenery. The Perception Prodigy 2 kayak is an easy paddle with its' sleek entry line but still offers all the stability you need.
Prodigy Expedition :£637.50 (RRP £750.00 - Saving £112.50)
Prodigy with rudder: £764.15 (RRP £899.00 - Saving £134.85)
More info
Features / Spec
Sizes
Recommended Kit
Colours
Delivery
Perception Prodigy II 14-5
The Perception Prodigy II 14.5 is the replacement for the Perception Kiwi range of 2 and 3 person kayaks. It is an all-new model designed to take up to 3 people on comfortable touring excursions and is a family friendly tandem that sits in between a canoe and kayak.
Inspired by the popular recreational Prodigy hull, this kayak features a rocker profile focused on speed, tracking, and minimizing noise when paddling through flat water and light currents. This makes the Perception Prodigy 2 an ideal family platform for fishing, bird watching or just enjoying the scenery.
The outfitting on the Perception Prodigy tandem kayak features a pair of ultra-comfortable Zone DLX seats with thigh padding. Getting in and out of the Prodigy is easy due to its large open cockpit making it a family favourite for anyone to jump in and out of. There are also multiple adjustment options including a new "on the fly" movable bow seat and foot brace design with the addition of an adjustable stern foot brace system. Whether paddling tandem, with the family, pets, kids or adults, this outfitting can be configured to maximize space and comfort.
This unique tandem kayak from Perception also features sleek deck styling and includes a spacious rear storage compartment and front deck bungee's. There is also the option to have a rudder fitted to this tandem kayak for easier paddling over long distances. The Perception Prodigy II is a great family option for relaxed touring around inland waterways. It can also provide enough storage space and ample comfort for longer excursions over several days. The Perception Prodigy II is truly a fun boat, easy to handle and forgiving when on the water which means you have more time to take in your surroundings rather than worry about what you're doing.
Read Our Review Of the Perception Prodigy II
Features
Superlinear Polyethylene hull material
Tracking hull design
Adjustable front & rear Zone DLX seats
Adjustable front & rear pedal footrests (Expedition Spec only)
Front & rear grab handles
Rear 24cm storage hatch with bulkhead(Expedition Spec only)
Optional Extra- Rudder System
Optional Extra- Child seat
Optional Extra- Spray Deck Specifically for the Prodigy II
Dimensions
Length: 4.42m
Width: 79cm
Weight: 33kg

Manufacturers Weight Capacity: 249kg

Optimum weight capacity may differ - please contact us if you are unsure about the suitability of the Perception Prodigy II 14-5 for your weight
Recommended Accessories

Perception Tandem Nylon Cockpit
Protection whilst you're paddling your Perception Prodigy II and allowing you to kayak in colder conditions.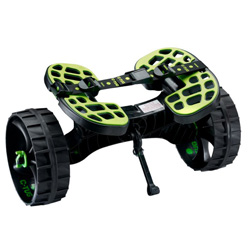 Railblaza C-Tug Trolley
This light weight easy to use trolley makes getting the Perception Prodigy to and from the water and absolute breeze.

Feelfree 15ltr Dry Bag
Keep your kit or sandwiches dry while out on the water. Can also be used to help trim the canoe or carry wet gear home. Other sizes are available.

Feelfree Paddle Leash
Simple accessory that prevents loss of your paddle should you accidentally drop it into the water.

Feelfree Day Tourer Paddle - Glass Shaft
Hard-wearing plastic blade construction with a lighter weight fibreglass shaft.
Standard Delivery
The Perception Prodigy II 14-5 is available for delivery thoughout England, Wales, Scotland, Northern Ireland & Ireland.
Canoes and kayaks are normally supplied within 3-5 working days. Clothing and equipment are normally delivered within 1-3 days.
Collection - Click & Collect
The Perception Prodigy II 14-5 is available for instore collection from Norfolk Canoes or from any branch within the Canoe Shops Group.
Our other stores are:
Bournemouth Canoes - Poole
Brighton Canoes - Newhaven
Cornwall Canoes - St Columb Road Nr Newquay
Kayaks & Paddles - Plymouth
Manchester Canoes - Warrington
Southampton Canoes - Totton
We will contact you to arrange collection upon receipt of you order.
Give us a call on 01603 747139 if you have any questions about the Perception Prodigy II 14-5