Electric Outboard Accessories
Equipment & Accessories For Your Electric Outboard Motor
From batteries and chargers, replacement propellers and spares we at Norfolk Canoes can help with your electric outboard accessories needs.
If you can't find what you are looking for or you're unsure which to choose, give us a call:
Tel: 01603 747139 or Email: Sales@norfolk-canoes.co.uk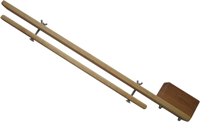 Wooden Motor Mount

A wooden motor mount that is easy to attach to the gunwales by clamping using the bolts and wing nuts provided. With no need to drill any holes in your canoe this mount couldn't be simpler to use.
Mount: 83 x 5.5cm
Mounting Block: 13.5 x 7.3 x 5.5cm
Please note for some canoes you may be required to trim the mount to fit and this mount will not fit Pelican or Ram-X Canoes.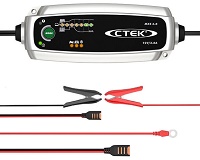 CTEK MXS 3.8 Battery Charger

Advanced battery charger that's also great at maintaining the performance of your battery. Has special programs for desulphation and when charging on cold days. Microprocesser controlled 7 step charger that identifies problems with your battery holding charge. Options for when charging different sizes of battery. Easy to follow with a clear LED display system.
| | |
| --- | --- |
| Input | 220–240VAC, 50–60Hz, 0.5A max |
| Output | |
| | 2.0V |
| Charging current | 3,8A max |
| Current, mains | 0.5A rms (at full charging current) |
| Back current drain | <1Ah/month |
| Ambient temperature | -20°C to +50°C, output power is reduced automatically at high temperatures |
| Charger type | 7 step, fully automatic charging cycle |
| Battery types | All types of 12V lead-acid batteries (WET, MF, Ca/Ca, AGM and GEL) |
| Battery capacity | 1.2–80Ah up to 130Ah for maintenance |
| Dimensions | 168 x 65 x 38mm (L x W x H) |
| Insulation class | IP65 |
| Weight | 0.6kg |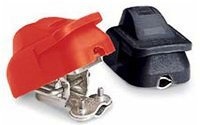 Battery Connectors
These battery connectors are ideal to use with you leisure battery and electric outboard motor. They make it easy for you to disconnect your battery for quick and convenient charging and packing away. They also make it easy for installing batteries in tight, confined places. The plastic cover eliminates the risk of electrical shocks
Quick and easy disconnection of batteries

Plastic cover eliminates risk of electrical shock

Fits post type battery terminals (will not fit on threaded posts)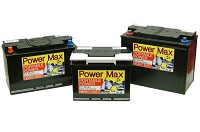 Leisure & Marine Batteries
The Power Max Leisure batteries are ideal for use with your electric outboard motor. These leisure batteries offer a portable and reliable power supply for your canoe, boat, caravan, camping and general leisure use. They will outlast conventional starter type batteries due to their superior construction and materials. These 12V deep cycle leisure batteries are perfect for use with the Minn Kota Electric Outboard range.
Please note: Due to the nature of these batteries, a special courier has to be used as correct transport handling to you is essential.
Battery
Model

Ah

Dimensions
L x W x H (mm)

Weight
(Kg)

85/LEISURE

85

265 x 173 x 215

18.5

110/LEISURE

110

343 x 174 x 230

27

135/LEISURE

135

343 x 174 x 280

35

85/SEALED

85

260 x 175 x 223

18.5

110/SEALED

110

330 x 173 x 240

28.5