VHF Radios and Personal Locator Beacons
Essential communication devices whan kayaking on the sea
If you can't find what you are looking for or you're unsure which to choose, give us a call:
Tel: 01603 747139 or Email: Sales@norfolk-canoes.co.uk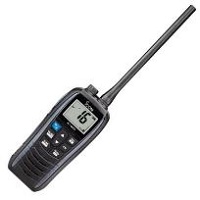 Icom IC-M25 Radio
The Icom M25 might be small but it is powerful. Its' small size allows it to fit in most PFD pockets and at only 30.5mm for the body and weighing 220g you'll hardly know it's there.
The M25 has a host of handy features such as flashing LCD and key backlight, a red flashing LED that makes the radio easy to spot should you drop it in the water and it also floats making retrieval easy.
The M25 has a long battery life and is fitted with a USB connector that makes charging from other electronic devices easy.
A tough, submersible construction - 1m depth for 30 mins
Aqua Quake System allows water to drain away quickly and easily from the speaker
4-step battery life indicator
One-touch access to channel 16
Auto scan function

Large LCD channel display with back lighting
Dual/Tri-watch function
Float and Flash function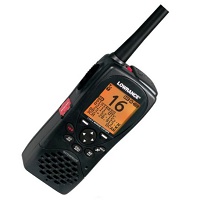 Lowrance Link 2 Radio
The Lowrance Link 2 is an excellent choice of DSC / VHF radio for either the sea kayaker or kayak fisherman. It comes loaded with features including a built-in GPS and chartplotter capable of storing up to 300 waypoints.
128 x 128 pixel LCD with adjustable contrast settings and backlighting, and prominent channel display
Includes a choice of high or low (5W to 1W) transmission power
"Get Buddy" feature transmits the radio's position by push of a button, allowing buddies to receive bearing and distance data from other Link-2 units
Latitude, longitude and time display
A distress call button with hinged door
The ability to select and program up to three favorite channels on a dedicated key
Flexible dual and tri watch for greater channel monitoring
Buddy list of up to 20 people
NMEA 0183 compatible



What's in the box:

Belt clip
Wristband
Rubber duck antenna
Desktop charger with 120V AC wall adaptor
7.4V 1400mAh Li-ion battery pack
Call Us For Price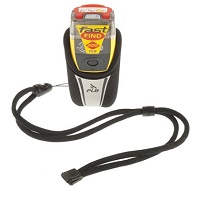 McMurdo Fast Find 220
The Mc Murdo Fast Find 220 is a lifesaving personal locator beacon, or PLB designed for marine enthusiasts (including paddlers) and general outdoor adventurers. Perfect for white water, sea kayaking and kayak fishing, but also any general touring or any form of expedition paddling, the Fast Find 220 PLB is ideally sized, fitting comfortably into most buoyancy aid pockets. The Fast Find 220 can also be used for inland trekking and expedition so if your interest extend beyong paddlesports you can take it anywhere in the world and be confident of a rescue.
The Fast Find 220 isreally your last resort in an emergency situation. Once activated the PLB transmits your location, unique ID and GPS position via satellite. Withing minutes this signal is picked up and rescuers are alerted not only to your situation but they will also receive regular updates on your exact position allowing the rescue services to home in on your beacon.

The 220 is subscription-free and does not rely on commercial call centres. However, remember that this is your last resort and should not be mis-used. .
Lightweight and compact design that fits into buoyancy aid pocket, drybag or just trouser pocket.
Suitable for both marine and inland activities
Waterproof to 10 metres
6 year battery life
Buoyant carry pouch
No subscription or call charges

SOS morse LED flash light
Safe-store antenna
Worldwide coverage