Mad River Canoes
Popular manufacturers of hard-wearing open canoes that are great for a exploring the rivers.

Shorter version of the Explorer canoe that is a little easier to handle and great if you don't need the extra space and carrying capacity that the bigger 16 foot model gives you.
2 comfortable wood and web seats
Also a great canoe for solo use as well as tandem
Extremely tough construction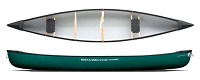 The Mad River Explorer 16 features a shallow V shape hull which provides a combination of straight line tracking performance and ease of turning. These are great for touring and for paddling on moving waters.
Higher carrying capacity for more storage space
Great for multi-day trips
2 ash wood and web seats as standard